Property: Tuscany (3760 South Figueroa Street)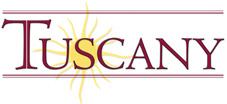 An Oasis of Tranquility Providing Resort-Style Living at USC




Click here to view a slideshow of Tuscany photos



Click here to view apartment floor plans and building layout



Click here to view the Ground Floor Tuscany Plan (Retail and Amenity Areas)



Click here to view a Virtual Tour of one of the apartments



Click here to view Virtual Tours of amenities

Click here to view the Parking Layout
Tuscany is located across the street from the main entrance to campus on the corner of Figueroa Street and 37th Place. The building features 120 luxury apartments surrounded by 8 lushly landscaped courtyards and boasts the highest quality and most exclusive apartments at USC.
Tuscany is truly the crown jewel of the USC neighborhood and is the only building in the area to feature 24 hour security, front desk concierge service, and keycard security access. Tuscany offers the safest and most luxurious living environment for USC students.
Tuscany offers 1, 2, 3, and 4 bedroom apartments, located on floors 2 through 5. Five of the nation's most popular student-oriented food establishments are located on the ground floor including Coffee Bean & Tea Leaf, Quizno's Subs, Coldstone Creamery, Robeks, and Chipotle. A Washington Mutual ATM Machine and the Conquest Student Housing Office are also conveniently located on the ground floor.
Tuscany includes resort-style amenities for its residents such as a swimming pool and two spas, a large indoor/outdoor state-of-the-art fitness center (including treadmills and ellipticals with individual plasma TVs), a world-class health spa that includes 2 steam rooms, 2 saunas, several showers, a massage therapy room and a rooftop sundeck with views from the Coliseum to the downtown skyline.
Tuscany also features a large recreation room for the exclusive use of its residents for parties, events, movie nights, and viewing USC sporting events. All residential floors include group study rooms, study lounges with individual work spaces, and laundry facilities featuring Maytag coin-free machines with smart card technology.
Each of these amenities are only available to Tuscany residents, and are included in the rent.
Each apartment comes standard with high speed internet, Dish Network TV service (HDTV-ready), and one underground, gated, reserved parking space per bedroom, with plenty of additional parking available located within the building. There is also plenty of parking available just next door to Tuscany in USC's Parking Structure 1 (PS1) which has 1,150 parking spaces for sale. USC sells semester-long permits.

Please click here to view a map of USC's Parking Structure 1 (PS1) in relation to Tuscany.

Please contact the transportation office at USC directly. USC requires that you buy your permit a few months in advance so make sure to follow their deadlines closely.
Several additional services offered on-site by our vendors include: dry cleaning (pick up and delivery), maid service, car washing/detailing, massage therapy, personal training, movie nights, and tutoring.

Leases for TUSCANY run from August 7, 2009 to July 31, 2010.

Walking time to Tommy Trojan: 6 minutes
Biking time to Tommy Trojan: 2 minutes



Monthly Rate for the School Year

Apartment Types & Prices:

1 BED/1 BATH (660 - 730 Sq. Ft)

2 BED/2 BATH (930 - 1,110 Sq. Ft)
3 BED/3 BATH (1250 - 1,480 Sq. Ft)

4 BED/4 BATH (1920 Sq. Ft)
Penthouse - 2 BED/2 BATH

* based on 2 person occupancy
** based on 4 person occupancy
*** based on 6 person occupancy
**** based on 8 person occupancy

See Leasing for information on how to reserve an apartment.

Rates subject to change before lease signing.
Tuscany Penthouses
There are two very exclusive penthouse apartments located on the top floor. These are the highest quality apartments available at USC, and are meant for those with the most discriminating tastes who are unwilling to accept anything but the best. These two elegant penthouses have amazing views and feature vaulted ceilings in both bedrooms and the living room. What better way to end a long day of classes than relaxing in your marble Jacuzzi tub sipping a Mocha Ice Blended from the Coffee Bean downstairs. The breathtaking apartments also include world class kitchens with stainless steel appliances, granite countertops, marble back splash, tiled floors, and solid maple cabinets. The penthouses also feature tiled entry and kitchen floors, berber carpeting throughout, marble and travertine baths, and the best parking spaces in the building. There are no apartment numbers for these two penthouses; they are simply referred to as "Penthouse 1" and "Penthouse 2."




Amenities:
• Complimentary high speed internet access (dedicated T3 45mb connection for the entire
building) included in rent (2 Ethernet connections per bedroom and 2 in the living room)

• 120+ digital channel HDTV-ready Dish Network TV service (including 16 HBO and
Showtime movie channels) included in rent

• 24-hour security / full-service concierge

• World class men's and women's health spas with steam room, sauna, showers,
and keyless combination lockers

• Indoor/Outdoor state of the art fitness center (treadmills, ellipticals, and bikes with personal
plasma TVs); personal trainers available - Open 24 hours

• Junior Olympic size swimming pool, 1 group Jacuzzi, and 1 cozy Jacuzzi

• Massage therapy room

• Large recreation room for parties, events and viewing of USC Football Games with full bar
and kitchen facilities (featuring state-of-the-art theater equipment with Blu-ray technology)

• Study lounges on every floor including group study rooms with whiteboards, and individual
work spaces for privacy

• Community roof-top sundeck furnished with chaise lounges for sunbathing

• Laundry facilities on premises featuring Maytag coin-free machines
with smart card technology
Services:
• Movie night on 1st and 3rd Wednesday evening of the month included in rent
• Dry cleaning pick-up and delivery

• Maid service

• Car washing / detailing on site
• Massage therapy (male and female therapists available)
• Personal training (male and female trainers available)
• Tutoring

Features:

• Underground, gated, reserved parking (1 space per bedroom included in rent).
Additional parking spaces available at $150 per space per month

• Secured building entry with key card access and 88 security cameras with DVR recording

• 8 lushly landscaped courtyards with fountains

• Spacious bedrooms fit 2 comfortably

• 2 phone lines per bedroom and 1 in the living room

• Full size kitchen w/ dishwasher, microwave, full size gas stove/oven, refrigerator/freezer
(with icemaker), and garbage disposal

• 9-foot ceilings (higher on 5th floor)

• Central air - heat and cool

• Large balcony in every apartment with oversized 8 foot glass sliding doors

• Most apartments feature walk-in closets (check the floor plans above)

• 2 sinks in most bathrooms (check the floor plans above)

• Many 5th floor apartments feature skylights over the showers

• Furnished apartments available

• Trash shoots on every floor
• Oversized freight elevator on 37th Place for convenient move-in and move-out

• Professional movers provided by Conquest to help unload cars and elevators during
August move-in

• Light and bright apartments with large living areas

Copyright © 1999 [Conquest Student Housing]. All rights reserved.
Revised: June 04, 2009